Temperature stability is more important to a certain point than temperature itself but if you get above the 80s then they will degrade no matter how stable you keep them. If you have a basement that's a constant 65 degrees year round you can go a few years past expiration and be okay.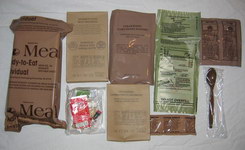 One thing to keep in mind is that as they expire they are less prone to rotting or becoming food-poisoned, and just prone to becoming disgusting and very difficult to eat.
An MRE can last for decades yes, but depending on the quality of materials and preservatives used when it was produced, the flavors could be affected​. And to illustrate this there was a clever chart made that explains how storage conditions can affect the life and quality of the MRE, check it out!
As you can see, the lifespan of the MRE can go well beyond 6 years, but you risk the flavors degrading. Which isn't that bad of a downside as long as it keeps you alive. And there are some companies (the military included) that do a phenomenal job of preserving the taste of the product along with the edibility. This video below illustrates that fact as one of the consumers of MREs and his employees eat a 23 year old MRE!